Hello Women's Club ladies and friends,
Thank you for supporting St. Catherine of Siena's Women's Club. Chicken pot pies are $20 each and will be available to pick up at the Bake Sale after all Masses October 23-24, or by special arrangement. You may purchase additional pies at the bake sale for $20 each. Payment by cash, check, or credit card will be accepted. Feel free to send this link to your friends and family (you can forward this email to them, too). You may call/text Deborah Kraml for more information at 469-702-0027. Enjoy your delicious pie(s), and thank you for your generosity!
Please use the following link to pre-order your chicken pot pies.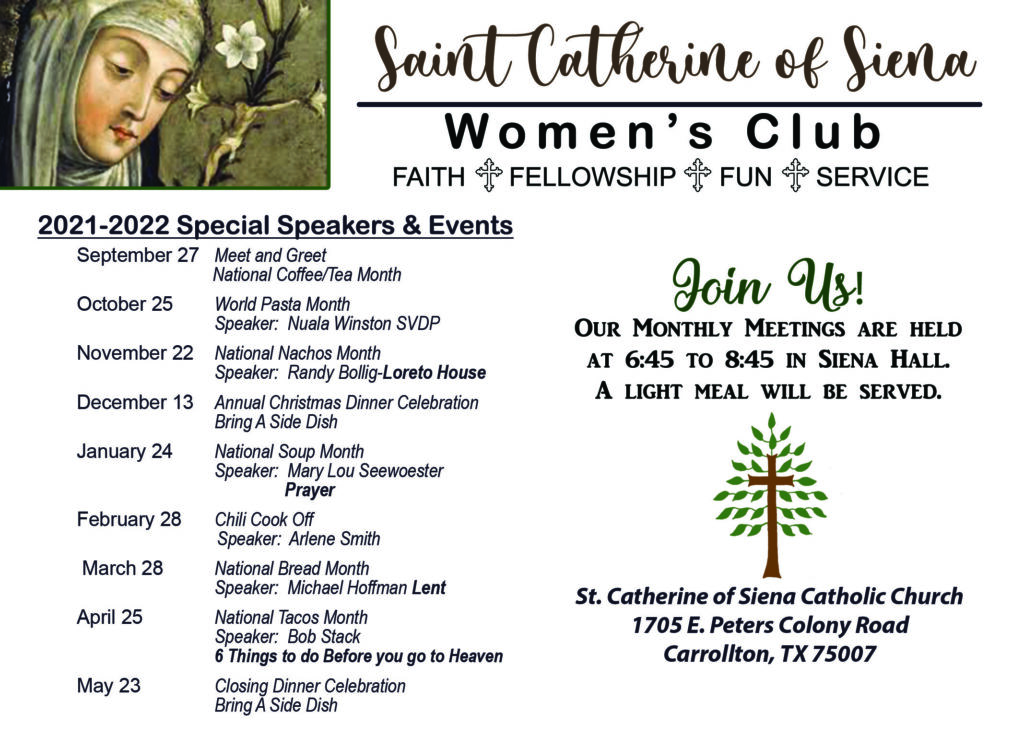 The St. Catherine of Siena Women's Club was established in 1978 and over the course of these 36 years we have truly grown as an organization and as a church family.
As our parish grows in size, so do our needs as parishioners and the help we can provide to one another in God's grace is immeasurable. We are all blessed with gifts.
We know you love St. Catherine, your parish and your community and we hope you will share your gifts with each of us.
We invite you to get involved with the Women's Club. We invite you to grow with us, in faith, in love, and in friendship.
2020 – 2021 OFFICERS
PRESIDENT – Yogi Rascon
VICE PRESIDENT – Luciana Freire Mendonca
SECOND VICE PRESIDENT – Kim Stewart
SECRETARY – Shirley Maier
TREASURER – Patti Weatherred (3rd year)
MEMBERSHIP – Anna Galvan and Yolanda Safford (2nd year)
BAKE SALE – Deborah Kraml & Sandy Murphy
FOOD – Yolanda Vando
COMMUNITY LIFE – Shirley Maier
Click here for the Women's Club Membership Form
Contact our President: Yogi Rascon at yogi.rascon5@gmail.com
Contact our Membership Committee: Rosemary Manganilla at rosemarym@stcatherine.org