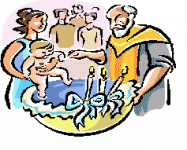 The Catechism of the Catholic Church teaches that…
Holy Baptism is the basis of the whole Christian life, the gateway to life in the Spirit (vitae spiritualis ianua), and the door which gives access to the other sacraments. Through Baptism we are freed from sin and reborn as sons of God… (No 1213)
Because this sacrament is the celebration of one's entry into God's new life within a particular community, we ask that all people seeking baptism for their children be active members of St. Catherine's community. At least one of the parents must be Catholic. As a rule, we require that families be registered at least three months before the celebration of the sacrament of Baptism. Two months prior to the sacrament, parents and godparents need to attend preparation for the Baptism of children under the age of seven. Classes are the 2nd Monday of every month. Registration is required. Please call Cathy, (972) 492-3237 x112 for more information or to register.
We provide the basic teachings of the church emphasizing the importance of the child's parents in raising their child in the fullness of the life Christ has given us. Parents are strongly encouraged to attend the classes before the birth of the child, if possible. The classes include an explanation of the sacrament of Baptism and how it is celebrated.
When the godparents are distant, they can attend preparation at their own parish. In that case, they will provide us with a copy of their certificate of baptism (with notes), their certificate of attendance to the preparation and a letter of good standing from their pastor. That is, godparents are practicing Catholics. Other Christians can only be considered as witnesses. Only one godparent is required. Two godparents are accepted.
Baptisms are every weekend of the month except during Lent. For available dates and time, please contact call (972) 492-3237.