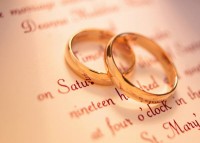 Congratulations! Preparing for a wedding is an exciting and sometimes overwhelming prospect, but in the end it is just the first of many days of your marriage. Marriage preparation is designed to help both bride and groom-to-be take a little time out of the wedding preparations to also prepare for the Sacrament of Marriage!

Preparation for the Sacrament of Marriage begins at least 9-12 months before your anticipated wedding day. Usually, you (or your parents/guardians) must be registered in this parish at least three months prior to beginning preparation. If you are coming from another parish or have an unusual situation, please call us at 972-492-3237.  Only one person in the couple needs to be Catholic to celebrate your marriage in the Catholic Church.  If you are currently civilly married but wish to be married in the Catholic Church, we will discuss your specific needs.
Please contact the parish office to register and to set up an interview with us. At that time, you will also receive detailed information regarding the remainder of the preparation process, which may include, but is not limited to, questionnaire, sponsor couple meetings, Pre-Cana workshop, and Natural Family Planning classes, as well as meeting with the Director of Music and Liturgy if the wedding is to be held at St. Catherine's.
All individuals (Catholic, non-Catholic, unbaptized) who have been previously married and divorced and who wish to marry in the Catholic Church, need to have their previous marriage(s) declared sacramentally invalid through the annulment process by the Diocesan Tribunal before marrying again. You may also petition for an annulment without having any marriage plans. Prior spouses are generally informed about the process but are not required to participate and cannot stop you from seeking an annulment. There are many factors that affect the length of time needed for an annulment, so any annulments needed are ideally completed before beginning the marriage preparation process. The Catholic Church annulment process does not change the legality of a prior marriage or the "legitimacy" of children from that marriage. For more information, or to start this process, please contact the church office at 972-492-3237.
Sponsor Couples
Sponsor couples are part of the Fully Engaged Marriage Preparation program. These married couples are parishioners who have accepted the call to help engaged couples in their journey towards marriage. To be considered for the ministry of Sponsor Couple, you must be married at least five years and have attended a Sponsor Couple training. Interested couples do not both have to be Catholic. Please contact the parish office to volunteer, 972-492-3237.
For more information, please access the Diocese of Fort Worth at: https://fwdioc.org/marriage-family-life